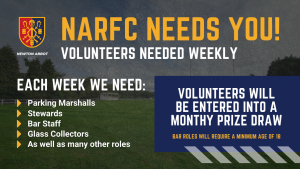 Volunteers needed
NARFC is run almost entirely by our volunteers. These people turn up early, after work, spend their weekends coaching kids and are here in all weathers!
A huge thank you to the club from all of us.
However we need more people to help out, everything from Parking Marshalls to Executive Committee members is needed.
If you want any more information about any of these roles, please take a look at the descriptions below. If you want any more information, just click on the I'm interested button and we'll get back to you as soon as possible with more information.
Membership Manager
Our members are the most important part of the club. We put on Rugby for them. We need someone who can act as a primary point of contact, add membership information to our database and update members throughout the season. Don't worry! Full training will be given! If you are comfortable around a computer and have an eye for detail this is the perfect role for you!
Volunteer Contact
Our club is run by volunteers and everything we do is the product of someone's hard work, and the fact that they have given up time to do it. we need someone to look after these valuable people and to find more people to help the club out. If you are an awesome people person and can inspire people to come to the club in a regular basis, we'd love to hear from you.
Press Officer
Communicating our achievements with the community is a vital part of any organisation. If you think you can help write up news reports for the website, social media and that will be sent to local media outlets, click on the I'm Interested Button!
Health and Safety Officer
Of course the safety of our visitors, players and helpers is of paramount importance. If you have a keen eye for detail and some experience of COSH, Health and Safety in the Workplace, as well as a great deal of common sense, we'd love to hear from you!
1st Team Matchcard Admin
Somebody has to tell people when our teams do well! After each match we have to report to the RFU scores, scorers, match conditions and other simple bits of information. If you love Stats and Rugby, this is the perfect role for you! It would be great to have you on board helping us tell the world about our team's successes.
Bar Staff
Turns our Rugby players like to drink! Who knew? We need casual bar staff and glass collectors as well as people who can run pints to tables. Over 18's only please.
Parking Marshalls
The growing popularity of the club means that we have more visitors. More visitors means more cars. We need confident people who can help out for a few hours at the weekends and for events to help direct cars to parking bays.
Event Staff
We are always looking for people to help run our events. That's everything from putting up tables and laying out chairs, to running the BBQ or taking tickets on the doors. If you are a confident outgoing person who doesn't mind getting stuck in, then get in touch.
Maintenance Team
A club as old as us, and as well used sometimes needs some TLC. If you are good with a paintbrush, handy with a drill or are confident or experienced in doing electrical or building work, then we'd love to hear from you.
Janitor
The growing popularity of the club has meant rising visitor numbers. This puts pressure on our services, like bin emptying, sweeping up, and litter picking. If you've got a great eye for detail and can spare a few hours a week, then it would be great to hear from you.
Funding Officer and Grant Writer
As a community club with lots of junior members, we know we can access a huge variety of grants and funding streams. If you know your way around a  Funding Directory and can make an application form sing, we'd love to hear from you.