Ground Works
February 13, 2022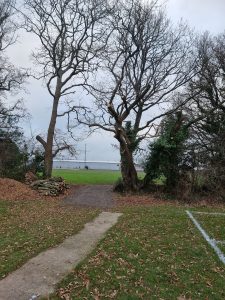 Hi Team, I have an update on some current and historic arboricultural works that have happened at the club over the last two years or so years.
I'll start with the iconic trees that most NARFC regulars would see as a landmark, the Poplars on the Westaway Pitch. These gargantuan trees are spotted from several positions around Newton Abbot, Most noticeably from the dual carriageway as you drive over the River Teign. Unfortunately, one windy night, one of these enormous trees fell onto the pitch, crushing the pedestrian fencing and causing slight damage to the Westaway Pitch. Sibelco, our landlords, instructed CP Trees Services to survey the other Poplar trees to confirm if these trees were safe to remain.  If you've been to the club recently, you'll already know the results of this; unfortunately, the trees were not safe to stay, putting our main pitch out of action until rectified. As a result, all of the Poplars had to be removed.
CP Tree Services created access from the Backpitch to the pedestrian path on the Westaway Pitch at the far end of the car park by removing some smaller trees and shrubs. Because of this and at a later date, we were able to extend the car park by over 300 sqm. Sibelco sent over their Rubber Duck Excavator and pushed back the bund 16 meters and also tidied up around the scoreboard area. Mark Rowe and Son supplied road planings and our members Colin Bushin and Nathan Miller moved the material around to create a solid base suitable for vehicles.  Thank you to Ryan Partridge for use of his mini digger.
With the damage being caused by a storm, the club was able to claim on its insurance, which is how we secured the new fencing from Duralock. A huge improvement on the previous style. Both aesthetically and commercially a brilliant asset for the club. You will have seen our Partners boards neatly displayed on our fencing, all of them on our Pitchside Partnership Scheme. The fencing was erected by CP Trees Services. We are truly grateful to Paul and his team and the many hours he has donated to the club.
More recently, AC Landscapes have tidied up the roadside area and removed all the thistle and brambles directly behind the gate. The Oaktree in Fairway Furniture has been balanced helping vision through to the roadside fixture board.
Most recently, within the last month, CP Tree Services has been back to flail around the outside of the playing fields which he does annually as part of his Partnership Package, He has also been making other trees safe on the premises, These trees are the two Oaks reminiscent of gate posts either side of the new bridge at Homer's. They have both had their dangerous heavy limbs removed.  See the picture and link to the videos